Touch the Earth Lightly
April 22, 2020 will mark the 50th anniversary of Earth Day. There are movements across the country and around the world focused on caring for this one and precious planet. However, rising seas, raging fires, overflowing landfills, and a host of other problems remind us daily of how much work is left to do in caring for and restoring God's wonderful creation. How can we better heed the poetry of Shriley Erena Murray's hymn to, "Touch the earth lightly, use the earth gently, nourish the life of the world in our care?" How do we remember and honor the reminder of Psalm 24 that, "The earth is the Lord's and all that is in it?"
Through worship and workshops, sermons and singing, forums and fellowship, join us for the Bible and Church Music Conference July 26 - August 1, 2020, where we will explore how to better, "Touch the Earth Lightly."
You are invited to this WONDERFUL event that features something for everyone. Excellent clinicians provide a meaningful opportunity for continuing education to church music professionals. Choir members, handbell ringers, harpists, organists, and others will hone their craft and enjoy connecting with others who love sacred music. There is also programming for the whole family. Children and youth will have their own opportunities for singing, ringing and more through the Camp Connections program.
If your family or church group has a wide variety of interests, The Church Music Conference is blessed with the Bible Conference , and Camp Connections program running concurrently. From young to young at heart, there's truly something for everyone.
Registration will become available this fall!
Union Presbyterian Seminary alumni are invited to attend the UPSem Luncheon during the Conference! Please check 'yes' next to the Union Seminary Alumni Luncheon in your registration form to sign up.
Church Music Clinicians
Adult Choir
David Schwoebel is a graduate of McKendree University in Lebanon, IL and Southwestern Baptist Theological Seminary in Fort Worth, TX where he received a Bachelor of Arts in Voice and Organ Performance, and Master of Church Music with an emphasis in Composition. After nearly 40 years of local church ministry, including 22+ years as Minister of Music/Composer in Residence at Derbyshire Baptist Church in Richmond, VA, David has transitioned to full-time work as a composer, arranger, pianist, accompanist and clinician. Possessing such diverse education and practical ministry experience enables him to arrange and compose in multiple mediums including piano, organ, handbells, and instrumental, as well as choral music for all ages. As an established composer of sacred music with over 200 publications in 29 different publisher's catalogs, David is known specifically for giving musical life to lyrics through sensitive melodies, well-crafted choral writing and rich-sounding accompaniments. A lover of hymnody, his MICHELLE hymn tune included in the 1991 Baptist Hymnal was named for his first, now deceased wife. The BRITTANY, ASHLEY and COURTNEY hymn tunes, named for his three daughters, and ROSE MARY, HENDRICKS AVENUE, as well as an arrangement of IRBY hymn tunes, are included in the hymnal, Celebrating Grace. The tunes, COURTNEY and ROSE MARY are also included in Glory to God: The Presbyterian Hymnal. David resides in Richmond, VA with his wife, Keadron, and her daughter, Ashley Higgs.
Edmund F. Tompkins has served as Minister of Music and Organist at Morning Star Evangelical Lutheran Church in Matthews, North Carolina, since February 2004. Prior to this, Ed had served as Director of Music/Organist in churches in Durham, NC; Nashville, TN; and Richmond, VA. Ed directs two adult vocal choirs, two inter-generational handbell choirs, a youth handbell choir, and two instrumental ensembles as well as vocal and instrumental opportunities for children. Ed is a graduate of Duke University and Scarritt Graduate School. He has conducted handbell festivals in Florida, North Carolina, South Carolina, Illinois, Tennessee, Virginia and Maryland and served on the handbell faculties at Montreat Conference on Worship and Music, Massanetta Church Music Conference, Music and Worship Arts Week at Lake Junaluska, Lutheridge Summer Music Week, and Lutheridge Handbell Weekend. He and his wife Judy live in Indian Trail, North Carolina.
Children's Choral - Rae Ann Anderson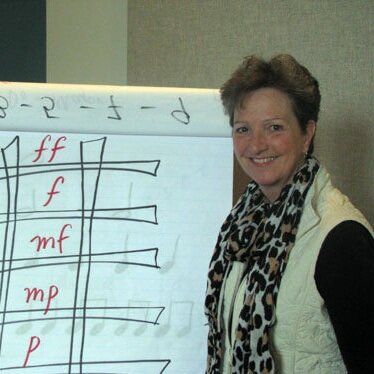 Rae Ann Anderson, CAGO, is the Director of Music for St. Paul's Lutheran Church in Glenside, Pennsylvania where she serves as Director for five choirs, organist and assists with worship planning and vesper programs. Ms. Anderson also holds the title of the Director of Children's Choirs for Settlement Music School of Philadelphia, Pennsylvania, the largest community school of the arts in America. In this position she directs and coordinates choirs for four branches that are part of the Settlement Music School system. The Branch Choirs combine to produce the 100-voice Gleeksman-Kohn Children's Choir of Settlement Music School. From 1995 to 2005, Ms. Anderson held the position of Associate Director of Music and Fine Arts for Bryn Mawr Presbyterian Church in Bryn Mawr, Pennsylvania, and prior to that she was the Director of Music for Trinity Presbyterian Church, Cherry Hill, NJ from 1988 to 1995.
An Ohio native, Ms. Anderson received the Bachelor of Music degree from Wittenberg University and the Master of Music degree in Organ Performance from the Conservatory of Music at University of Missouri-Kansas City, in addition to a year's study at the Berliner Kirchenmusikschule in Berlin, Germany.
As a church musician, Ms. Anderson has served in churches in Ohio, Missouri, Kansas, New Jersey and Pennsylvania. As an educator, she has been a member of the faculty of the Settlement Music School in Philadelphia and has served as the Project Coordinator for Singing City in the Schools, a Philadelphia public school outreach program. She was also the Founder and Music Director of the West Philadelphia Children's Choir from 2003 to 2005.
Ms. Anderson has served on the Executive Boards of the Philadelphia and Southwest Jersey chapters of the American Guild of Organists and as the Dean of the Philadelphia chapter. She also served as the Executive Assistant for the 2002 National AGO Convention that was held in Philadelphia July 2002.
Karen Areheart Ives is Director of Music at St. Stephen Lutheran Church in Williamsburg Virginia. Karen holds a Bachelor of Music Degree in Piano Performance from Wittenberg University (Springfield, OH) and her Master's from the University of South Carolina (Columbia, SC). She has a vocal performance degree from Columbia College where she was the Faculty Staff accompanist for eighteen years. She taught piano in CC's pre-college program and class piano in the college's music department. Karen accompanied Columbia's Sandlapper Singers, a semi-professional choral ensemble specializing in American music. She served six Lutheran churches in the Columbia area, and most recently was Cantor at Lutheran Church of the Nativity in Arden, NC. She assists Augsburg Fortress Publishers with music clinic events around the US, and she has been accompanist and keyboard clinician for Lutheridge's Music Week (Arden, NC) and for the Presbyterian Association of Music conference at Massanetta Springs (Harrisonburg, VA). Karen is the accompanist for the Williamsburg Choral Guild, a mixed SATB chorus of approximately 100 singers. She is the rehearsal pianist for the Williamsburg Women's Chorus and also accompanies the Jamestown Youth Chorale. She is a member of the American Guild of Organists and the Association of Lutheran Church Musicians.
Typical Daily Schedule
7:30 - 8:25 Breakfast
8:30 - 8:45 All Conference Devotions at The Springs
9:00 - 10:10 Adult Advanced Handbells & Intermediate Harp
10:15 - 11:15 Adult Conference Choir
11:30 - 12:25 Morning Worship & Reading Sessions: Adult Choir
12:30 - 1:30 Lunch
1:30 - 2:25 Adult Conference Choir
2:30 - 3:25 Intermediate Handbells & Chamber Choir & Beginning Harp
3:30 - 4:30 Reading Sessions: All others & Harp Tasting Course (Tuesday & Wednesday)
3:45 - 4:45 Organ Class at Massanutten Presbyterian Church
5:15 - 6:15 Dinner
7:00 Evening Worship
8:30 Special Evening Activity
Adult Choral Sessions, twice daily

Chamber Choir Sessions, once daily

Youth Choral Sessions on 2 age levels

Children's Choral Sessions on 2 age levels

Handbells for adults and older youth on 2 levels

Art for High School youth

Handbells for 3rd-5th graders

Handbells for Middle School youth

Orff for Kindergarten- 8th Graders

Music emphasis in evening worship!

Organ Classes daily at Massanutten PC

Harp Classes daily: Two Levels (maybe three levels in 2019)

Massed Choir for Opening Worship Sunday night
Morning and Evening worship with the Bible Conference

Morning Devotions at the Springs

Resource and Reading Sessions for Choral and Handbell ministries

Instrumental and vocal ensembles leading in worship

Opportunities for one-on-one conversations with music and worship leaders

All Conference Children and Youth Concert

JW Pepper Music Store on campus

Camp Connections- a program for children, youth, and collegiates - for 2019, newly expanded camp activities and child participation in conjunction with Netta Day Camp!

Time to rest, rock, renew
Registration for CMC 2020 will be available this fall!
Union Presbyterian Seminary alumni are invited to attend the UPSem Luncheon during the Bible Conference! Please check 'yes' next to the Union Seminary Alumni Luncheon in your registration form to sign up.
To complete the process you may mail your forms to Massanetta Springs Camp and Conference Center at 712 Massanetta Springs Road, Harrisonburg, VA 22801 OR you may EMAIL your completed forms to nolaa@massanettasprings.org
PLEASE NOTE: All emailed forms MUST be returned as a PDF document.
JPG documents will not be accepted.
Children, Youth, and College
Camp Connections
July 26-August 1, 2020
There is something for the whole family during the Bible Conference and Church Music Conference.
Wee Connect: For infants- preschool age children. Spend time with our loving caregivers in our updated nursery. The day will include playtime, story time, rest time, and music time.
Kids Connect: For children in completed Kindergarten- 5th Grade. Children will spend the day doing a variety of Camp Activities including, water play, archery, swimming, canoes, Bible Study and lawn games. All children will participate in choir. Upper Elementary students will participate in handbells.
Youth Connect: For youth in completed 6th- 12th Grade. The day will be anchored by Bible Study, Choir. Middle School youth will participate in handbells. High School youth have the option of signing up for Intermediate and advanced handbells (this requires pre-registration). There is a lot of time to hang out, explore Massanetta, do the Challenge Course/Zipline, and spend time with friends.
Camp Connections for children and youth are led by HS Juniors/Seniors and College Students who have leadership experience working with Children and youth. Many of them are children and youth of Massanetta programs and camp and love coming back each year to share Massanetta with a new generation.
You Register for Camp Connections when your family registers for the Bible and Church Music Conference. Your confirmation material will include an additional youth information form that will help us register your children/youth.
Click HERE for a downloadable version of our Youth Mailer!
So many of the youth who grew up coming to Bible Conference and Church Music Conference are now in College. Many come back to experience the conference. College Connections is for collegiates (completed freshman year- 23 years of age) to have an opportunity to reconnect and dig deeper. College students are invited to register normally for either Bible or Church Music conference and there will be opportunities just for college students planned throughout the day.
Interested in serving as a 2020 Camp Connections Counselor?
We are looking for youth (completed 11th/12th Grade) and college students who are excited about leading at Massanetta to help add numbers to our full time summer staff for this week of music and camp.
Dates of commitment are July 25-August 1, 2020.

Applications will be received on a rolling basis, dependent on room and availability. Camp Connection Counselors will be hired after Day Camp Counselors are hired.